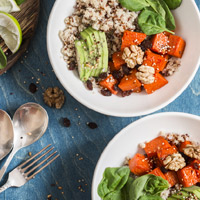 Looking for an easy way to eat healthy? Grab yourself a bowl. Many restaurants now offer a selection of bowl-based meals that are convenient and often nutritious. When ordering, look for bowls with fruits, vegetables or lean proteins as the main ingredients, while steering clear of those made up of fried chicken, cheese or other fatty options. Learn how you can create your own healthy bowls >

Diabetes Programs and Screenings

Education and prevention can keep you and your loved ones healthy. We invite you to take advantage of the programs, support groups and screenings available.
Diabetes Support Groups
Adults with diabetes can receive mutual support and education. Group discussions and guest speakers will cover a variety of topics. Pre-registration is required. For more information and to register, please call 973-579-8341.
• Emotional Health & Diabetes: Taking Care of You
Wednesday, March 7, 6:30pm
Newton Medical Center
Diabetes Articles