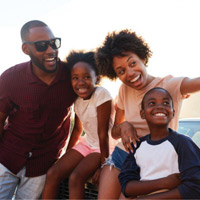 There's not always time for home-cooked meals, but occasionally eating out doesn't have to derail your diet. If you go to a buffet, take a walk around the entire table and choose the foods you want to eat before actually filling your plate. This will prevent overindulgence, but if you still end up biting off more than you can chew, don't feel obligated to eat all of it. Despite what you may have been told as a kid, clearing your plate won't solve world hunger. And when it comes time for dessert, choose only low-calorie, reduced-fat options like fresh fruit, sorbet, gelatin or angel food cake. See more tips for eating on-the-go >

Diabetes Programs and Screenings

Education and prevention can keep you and your loved ones healthy. We invite you to take advantage of the programs, support groups and screenings available.
Self-Management for Diabetes
Learn diabetes self-management tips. A doctor's order is required to participate and there may be a fee for services.
Thursday, September 6; 9:00am to 3:00pm
Newton Medical Center, Diabetes Center
Call 973-579-8341 for information and to register.

Diabetes Support Groups
Adults with diabetes can receive mutual support and education. Group discussions and guest speakers will cover a variety of topics. Pre-registration is required.
Wednesday, September 5, 6:30pm
Topic: "The Anti-Inflammatory vs. The Mediterranean Diet"
Newton Medical Center
For more information and to register, please call 973-579-8341.
Diabetes Articles