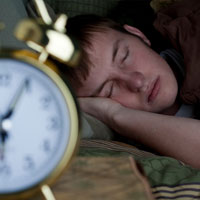 If you're a parent of an adolescent child, chances are you've wondered why it's so difficult to get him or her out of bed in the morning. The answer is that many teenagers are suffering from chronic insufficient sleep due to schedules jam-packed with homework, extra-curricular activities and sports. To avoid this, experts at Goryeb Children's Hospital recommend that parents work with their children to prioritize sleep and make adjustments to their nighttime routine. These can be as simple as avoiding caffeinated drinks late in the day, putting away electronic devices at night and keeping to a regular bedtime. For additional assistance, consult the specialists at our pediatric sleep disorder center >

Sleep Disorder Events and Screenings
Dinner and a Lecture: Are You Dreaming of a Good Night's Sleep?

A sleep specialist will discuss the importance of sleep, the symptoms of sleep disorders – such as insomnia and sleep apnea – and new research about the cycle of sleep deprivation and weight gain. Self-evaluation and available solutions will also be addressed.
Fee: $8
Monday, March 26; 5:30pm
Newton Medical Center, Romano Conference Center
For more information and to register, please call 973-579-8340.
Sleep Disorder Articles