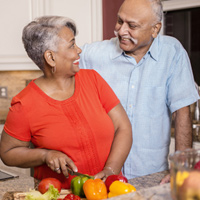 Unchecked, high LDL cholesterol is one of the primary reasons one in four Americans die from heart disease each year. To help reverse this trend, Atlantic Medical Group physicians have teamed up with the American Heart Association's Check. Change. Control. Cholesterol™ program. Our shared goal is to educate communities about the risks of high cholesterol and how to effectively manage it with medications and lifestyle changes. Learn more about controlling cholesterol >
Blood Pressure Programs and Screenings
Education and prevention can keep you and your loved ones healthy. We invite you to take advantage of the programs, support groups and screenings available. Adults 65 and older who are looking to stay well with age may benefit from events labeled "New Vitality."
Assess Your Stress Level
Find out if you're over-stressed; no appointment necessary.
Wednesday, September 25; 3:00 to 5:00pm
Milford Health & Wellness, 111 East Catharine Street, Milford, PA
For information, please call 570-409-8484 ext. 501.

Quit Smoking Program
Learn techniques that can help you quit cigarettes and stay smoke free. Nicotine replacement products will be provided at no cost. For upcoming dates and to register, please call 973-579-8373.
Blood Pressure Articles