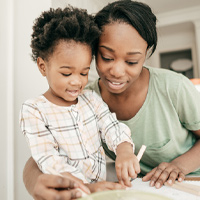 Speech and motor delays are common in children, but how can you tell if your little one has a developmental problem or is just a late bloomer? Atlantic Health System's pediatric rehabilitation specialist says there are general guidelines you can follow. Babies should be able to roll from back to front at six months, sit up at eight months and say three or four words at one year. With older kids, look for poor speech articulation, trouble getting dressed or difficulty keeping up with other kids athletically. Read more of the interview with our expert, who explains developmental delays and how pediatric rehabilitation can help.



Parenting Programs and Screenings
Education and prevention can keep you and your loved ones healthy. We invite you to take advantage of the programs, support groups and screenings available.
Safe Sitter® Baby Sitting Classes
Boys and girls ages 11 to 14 will receive medically accurate, hands-on instruction in pediatric emergency care.
Fee: $60 (includes manual and completion card)
Saturday, September 21; 8:30am to 3:30pm
For locations, or to register, please call 973-579-8653.

Project SEARCH
High school students age 18 to 21 with significant disabilities learn career and independent living skills. Interns in our program receive competitive employment for 16 hours per week or more at a prevailing wage. Enrollment is now open for September 2019.
For more information or to enroll your child, please call 973-579-9680.

Dialectical Behavior Therapy Teen Group
This 12-week series will help teens ages 14 to 17 how to deal with challenges in their lives and regular their emotions.
Newton Medical Center, 175 High St, Newton, NJ
For more information, meeting dates and times, please call 973-579-8581. To register, please call 1-888-247-1400.
Parenting Articles