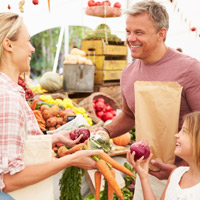 The farmer's market is your ticket to healthy eating this summer. According to Atlantic Health System dietitians, the time between when a fruit or vegetable is harvested and when you actually eat it impacts the content of its vitamins and minerals. For this reason, locally-grown produce that you can obtain at or right before prime ripeness offer greater nutritional value than imported foods. As an added bonus for families, farmer's markets expose kids to healthier snack options and teach them about the growing and harvesting process. Read more >

Weight Management Programs and Screenings

Education and prevention can keep you and your loved ones healthy. We invite you to take advantage of the programs, support groups and screenings available.
Bariatric (Weight Loss) Surgery Support Group
Adults who have had bariatric surgery or those thinking about having the procedure can receive mutual support and encouragement, as they adjust to the changes in their bodies.
First Tuesday of every month; 6:00 to 7:00pm
Newton Medical Center, Romano Conference and Education Center
For more information and to register, please call 1-800-247-9580.

Weight Management Articles