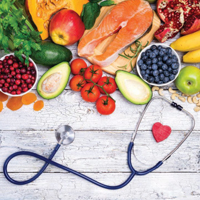 Finding new ways to eat healthy doesn't have to be a tough nut to crack. Just grab yourself a handful of walnuts, almonds or pistachios and you'll be well on your way to improving your heart. Over time, these snacks can help lower cholesterol, reduce the buildup of plaque in the arteries and prevent blood clots. Try eating nuts a few times a week to reap the greatest nutritional benefit. For other heart-healthy foods, check out the latest issue of AtlanticView >
Women's Heart Health Programs and Screenings
Education and prevention can keep you and your loved ones healthy. We invite you to take advantage of the programs, support groups and screenings available.
Assess Your Stress Level
Find out if you're over-stressed; no appointment necessary.
Wednesday, September 26; 3:00 to 5:00pm
Milford Health & Wellness, 111 East Catharine Street, Milford, PA
For information, please call 570-409-8484 ext. 501.

Quit Smoking Program
Learn techniques that can help you quit and stay smoke free. Nicotine replacement products will be provided at no cost.
For more information, dates and to register, please call 973-579-8373.

Heart Failure Support Group
Heart failure patients and/or their significant others can learn how to best manage their disease.
Second Thursday of every month; 1:00 to 2:00pm.
Newton Medical Center, Emergency Department Conference Room
For more information, please call 973-579-8364.
Women's Heart Health Articles