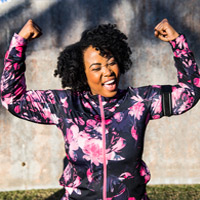 Being overweight increases your risk for heart attack and stroke. Atlantic Health System's cardiovascular disease risk calculator can predict how likely it is you'll develop a heart-related condition in the next 10 years based on your body mass index. You should know your height, weight, blood pressure and cholesterol levels before taking this test to get the most accurate results. Once you have the outcome, share it with your doctor, so you can discuss ways to improve your heart health. Take the cardiovascular disease risk assessment >
Women's Heart Health Programs and Screenings
Education and prevention can keep you and your loved ones healthy. We invite you to take advantage of the programs, support groups and screenings available. Adults 65 and older who are looking to stay well with age may benefit from events labeled "New Vitality."

Assess Your Stress Level
Find out if you're over-stressed; no appointment necessary.
Wednesday, December 12; 3:00 to 5:00pm
Milford Health & Wellness, 111 East Catharine Street, Milford, PA
For information, please call 570-409-8484 ext. 501.

Smoking and Vaping Cessation Program
A certified tobacco treatment specialist will demonstrate techniques to help you quit smoking or vaping. Nicotine replacement products will be provided at no cost. An assessment and pre-registration are required.
For more information and to register, please call 973-579-8373.
Women's Heart Health Articles