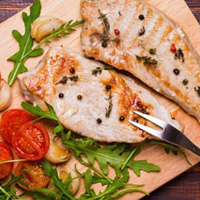 While some of us love a juicy steak from time to time, others prefer to avoid red meat altogether, either by choice or for health reasons. For those who can't indulge in beef, turkey is a great nutritious alternative. In addition to containing plenty of protein, turkey has an amino acid called tryptophan that can help balance your mood and when it's prepared fresh without the skin, has even less calories than chicken and pork. See how Atlantic Health System chefs prepare turkey cutlet bisteks >
Healthy Diet Programs and Screenings
Education and prevention can keep you and your loved ones healthy. We invite you to take advantage of the programs, support groups and screenings available. Adults 65 and older who are looking to stay well with age may benefit from events labeled "New Vitality."
Community Nutrition Lectures
Newton Medical Center's Community Health Department, in partnership with the Sussex County YMCA, regularly holds free seminars on how to eat well.
Reading a Food Label and Portion Control
Friday, May 3; 10:00am

Healthy Hydration
Friday, June 7; 10:00am
Sussex County YMCA, 15 Wits End Road, Hardyston, NJ.
For more information or to register, please call 973-209-9622.

New Vitality: Healthy Food Shopping on a Budget
Learn how you can save money and still enjoy tasty, nutritious meals.
Tuesday, June 4; 10:00 to 11:00am
Newton Medical Center, Romano Conference Center
For more information and to register, please call 1-844-472-8499.
Healthy Diet Articles