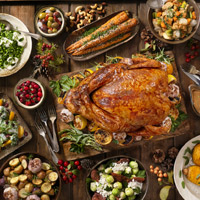 When it comes to holiday eating, one of the biggest mistakes people make is skipping breakfast and lunch in prep for a big dinner. Although this may seem like a way to minimize calories throughout the day, this approach lends itself to overeating and ultimately putting on the pounds.
Nutritionists
instead recommend eating a hearty breakfast and lunch rich in fibers on the day of a holiday meal to control hunger. If you still find yourself craving second helpings at dinner, wait 10 to 20 minutes before actually filling your plate. This gives your brain time to recognize if you're actually full.
Healthy Diet Programs and Screenings
Education and prevention can keep you and your loved ones healthy. We invite you to take advantage of the programs, support groups and screenings available.

Eating Smart for Heart Health During the Holiday Season
Learn how to resist tempting, unhealthy foods during the holiday season while still enjoying your favorite traditional dishes.
Tuesday, December 4; 10:00 to 11:00am
Newton Medical Center, Romano Conference Center
For more information and to register call 1-844-472-8499.
Community Nutrition Lectures
Newton Medical Center's Community Health Department, in partnership with the Sussex County YMCA, regularly holds free seminars on how to eat well.
Friday, December 7; 10:00am


Topic: Hidden Salts in Foods
Sussex County YMCA, 15 Wits End Road, Hardyston, NJ.
For more information or to register, please call 973-209-9622.
Healthy Diet Articles