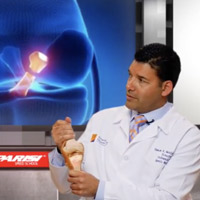 Don't let a twisted ankle or pulled hamstring derail your 2018 fitness goals. Atlantic Sports Health, in partnership with the Parisi Speed School, recently launched a series of videos that provide in-depth explanations of injuries common to athletes and how to prevent them. Each episode features one of our sports medicine experts discussing a different topic, such as anterior cruciate ligament (ACL) tears, concussions, ankle injuries and more. Watch now >



Orthopedics Programs and Screenings
Education and prevention can keep you and your loved ones healthy. We invite you to take advantage of the programs, support groups and screenings available.
Joint Replacement Education Sessions
Learn about total joint replacement surgeries available at Newton Medical Center. Our certified instructors will cover pre-surgical education and exercise, as well as pain management and post-operative planning and recovery. No appointment necessary.
First Wednesday of the month, Noon to 2:00pm
Newton Medical Center, Romano Conference and Education Center, Room 100
Broadcast to Milford Health & Wellness via video conference.
For more information, please call 1-800-247-9580.
Orthopedics Articles