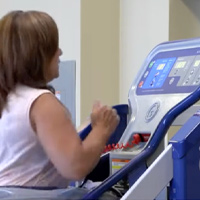 Our legs are designed to support pain-free movement, but after an injury or surgery, the weight of our own bodies can hamper the recovery process. The AlterG Anti-Gravity Treadmill®, available at several Atlantic Rehabilitation locations, can help you regain your mobility faster with minimal discomfort. It uses N.A.S.A. differential air pressure technology, which simulates a reduced gravity environment, so you can walk or run without putting extra strain on your joints and muscles. Watch a video to learn more >

Orthopedics Programs and Screenings
Education and prevention can keep you and your loved ones healthy. We invite you to take advantage of the programs, support groups and screenings available. Adults 65 and older who are looking to stay well with age may benefit from events labeled "New Vitality."

Joint Pain: Is Osteoarthritis Hurting You?
Learn about the common symptoms of arthritis and the latest treatment options.
Tuesday, October 1; 6:30 to 7:30pm
Sussex County Library, Louise Childs Branch
21 Stanhope Sparta Road, Stanhope, NJ
For more information and to register, please call 1-800-247-9580

Joint Replacement Education Sessions
Learn about total joint replacement surgeries available at Newton Medical Center. Our certified instructors will cover pre-surgical education and exercise, as well as pain management and post-operative planning and recovery. No appointment necessary.
First Wednesday of the month, Noon to 2:00pm
Newton Medical Center, Romano Conference and Education Center, Room 100
Broadcast to Milford Health & Wellness via video conference
For more information and to register for the in-person class, please call 1-800-247-9580.
For more information about the video conference, call 1-800-247-9580.
Orthopedics Articles