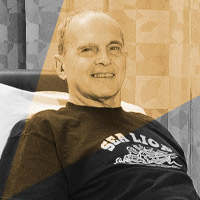 75-year old Phil Glorioso still follows his passion for SCUBA diving. "Working on a diving boat requires heavy-duty chores," Phil explains. "Pulling anchor chains and coming up the dive ladder with 132 pounds of dive gear." When Phil strained a muscle doing a home repair, he knew diving with an injury wasn't an option. He had to get help. Having been successfully treated for muscle injuries and arthritis before, he knew exactly where to go. Read more of his story >

Orthopedics Programs and Screenings
Education and prevention can keep you and your loved ones healthy. We invite you to take advantage of the programs, support groups and screenings available. Adults 65 and older who are looking to stay well with age may benefit from events labeled "New Vitality."
Joint Replacement Education Sessions
Learn about total joint replacement surgeries available at Newton Medical Center. Our certified instructors will cover pre-surgical education and exercise, as well as pain management and post-operative planning and recovery. No appointment necessary.
First Wednesday of the month, Noon to 2:00pm
Newton Medical Center, Romano Conference and Education Center, Room 100
Broadcast to Milford Health & Wellness via video conference
For more information and to register for the in-person class, please call 1-800-247-9580.
For more information about the video conference, call 1-800-247-9580.
Orthopedics Articles